Benefits
Streamlined access
Prevent Identity Fraud
Stop fake or stolen IDs gaining creditably by entering your system. Prevent fraud the smart way.
Increase Conversion
Minimize friction events like naming documents and numbering with our OCR autofill.
Meet Compliance
Adherence to ever evolving compliance requirements globally is a daunting task. Be plugged in without having to be switched on.
OPTICAL CHARACTER RECOGNITION
Accuracy in 0.4 seconds
Our Optical Character Recognition (OCR), is clever enough to read no matter the lighting conditions. Your data accuracy is guaranteed to improve.
Book a demo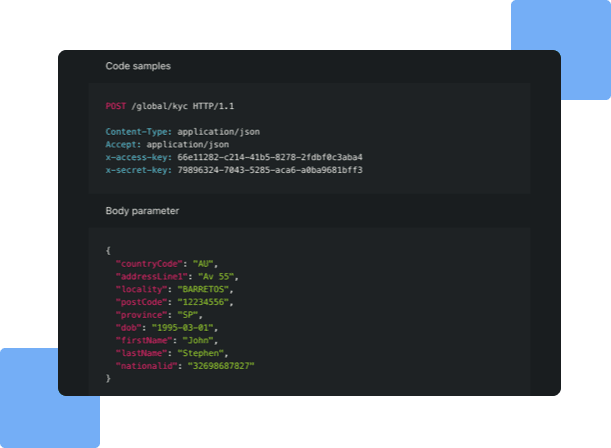 FOR Developers
Developer-Friendly APIs
We're developers at heart and know how a well documented API can boost developers' productivity and morale. Let us sweat out the details and the problem solving required to transform your ID Verification process.
View API documentation
No licencing fee
No minimum spend
No implementation fees
No hosting fees