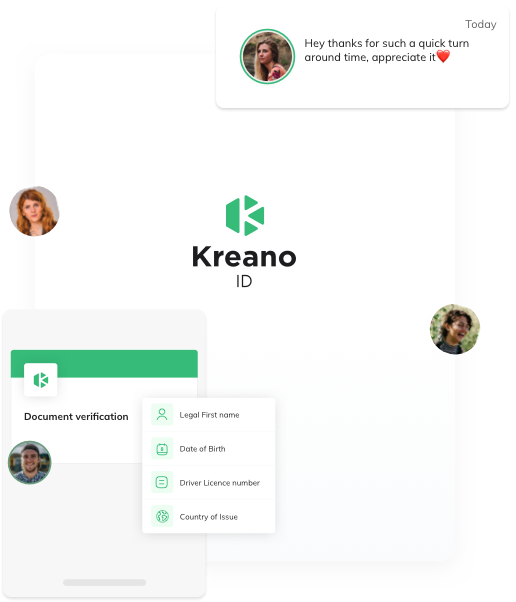 DOCUMENT & BIOMETRIC VERIFICATION
Avoid Abandonment Conversions
Onboard your customers with ease, while meeting your regulatory requirements.
Try now
BIOMETRIC VERIFICATION
Impress Customers With Frictionless Experiences
Transform your customer experience with fast, secure and precise onboarding.
Try now
LIVENESS & FACE-MATCH TECHNOLOGY
Ensure You Verify The Person Behind the Transaction
With Facial recognition and liveness technology – confirm an identity with no hesitations.
Try now
Bridging
Our Kreano principles
Ease-of-use
Intuitive, quick to set-up and simple to use. No instructions necessary.
Security
Protection of data and the privacy of you customers is core to us.
Efficiency
Verify any form of ID Documents without hiccups and in real time. Now that's efficient.
Transparency
Just so you know, mining your customers' data is not our business model.
Leading
We're dedicated to delivering the most effective and cost friendly solution. Our PAYG offering and no minimum spend demonstrates our commitment to deliver value.
Empowerment
We're just as focused on helping you deliver a smooth customer experience. Our solutions aim to enable you to focus on what matters the most.